Class Of 1968
The Dalles

High School

Class of 1968
In Memory
The list of classmates we've lost :
Elizabeth Brock
Birth:
Death:
Grace Buckles
Birth: 22 Mar 1950 The Dalles, Oregon
Death 4 Apr 2002 The Dalles, Oregon
Obituary: https://www.findagrave.com/memorial/55561946
Joyce Chastain Teurck
Birth: 18 May 1950 Vancouver, Washington
Death: 18 Jun 2015 Ocean Park, Washington
Anthony "Tony' Benson Commander
Birth 16 Mar 1950 The Dalles, Oregon
Death: 20 Aug 2016 The Dalles, Oregon
Jehm Coombs
Birth:
Death:
Thomas Lynn Elliott
Birth: December 8, 1949
Death: October 4, 2019 The Dalles, Oregon
https://www.thedalleschronicle.com/tributes/obituaries/thomas-lynn-elliott/article_f301df96-eb86-11e9-9c50-574d62cd346d.html
Charles Verne Evans
Birth 10 Sept 1949 Hood River, Oregon
Death 28 Jul 2001 Bellingham, Washington
Michael Jay Fargher
Birth 23 Oct 1949 The Dalles, Oregon
Death 25 Dec 2018 Calgary, Alberta, Canada
Obituary https://www.thedalleschronicle.com/obituaries/micahel-j-fargher/article_fb34fb7d-d3b2-55c8-b57e-f9c0373301df.html
Robert "Bob" Edward Forsi
Birth 9 Nov 1949 Brainerd, Minnesota
Death: 7 Mar 1991 Hood River, Oregon
Gary Clarence Gallagher
Birth 14 May 1949
Death: 21 May 2003 Wasco, Oregon
Buried in Gallaher Family Cemetery, The Dalles Oregon
Cheryl "Chere" Hammer Jones
Birth 1 Apr 1950 Jackson Minnesota
Death: 3 May 2014 Portland, Oregon
Obituary: https://obittree.com/obituary/us/oregon/hood-river/andersons-tribute-center/cheryl-jones/1862806/
Additonal article: https://www.thedalleschronicle.com/news/local/longtime-youth-advocate-chere-jones-dies/article_36c34432-9261-5ec5-9abd-63c203e7d5db.html
Wilard Wayne Hinshaw
Birth: 13 Oct 1948 McMinnville, Oregon
Death: 14 Jul 1993 Portland, Oregon
Joseph "Jody" Alan Hotka
Birth: 22 Aug 1950 The Dalles, Oregon
Death: 23 Jan 1996 Portland, Oregon
Valerie Ann Ingebo
Birth: 11 Apr 1950 Boxeman, Montana
Death: 14 Apr 2005 Troy, New York
Sylvia Jean Kosse
Birth 27 Jun 1950
Death: 29 Mar 1974 Eugene Oregon
Lee Bradford Lacey
Birth: 8 Feb 1950 Longview, Washington
Death: 15 Feb 2009 Oregon
Obituary: https://www.legacy.com/obituaries/name/lee-lacey-obituary?pid=124700341
Cindy Leland
Birth:
Death:
Elizabeth "Betsy" Lee Merriss Curry
Born: Jan. 5, 1950
Death : Feb. 17,1999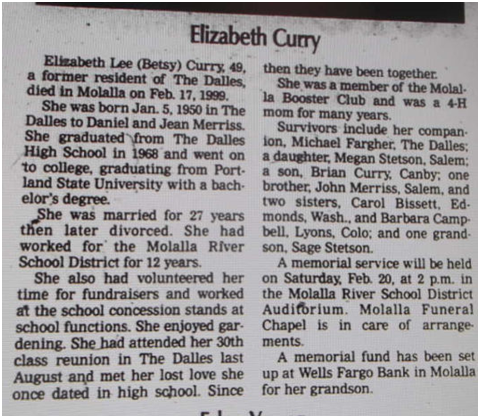 Bruce Morgan
Birth:
Death:
Tom Moser
Birth:
Death 2016 Portland, Oregon
Robert Newson
Birth: Aug 11, 1949
Death: Sept. 19, 2017
Residence: The Dalles, Ore
Alice Parsons
Birth:
Death:
Gloria Petty Bruce
Birth: 23 Jun 1950 Seattle, Washington
Death: 9 Sept 2011 Seattle, Washington
Obituary: https://www.findagrave.com/memorial/97397304
John Phipps
Birth:
Death:
Pete Rongerude
Birth: 27 May 1950 The Dalles Oregon
Death: 23 Jan 1980 Multnomah, Oregon
Marilyn Sampson
Birth:
Death:
Ray Schleck
Birth:
Death:
Kathy Sexton Kosse
Birth: 25 Jul 1950
Death: 25 Dec 2008 Washington
Daniel Eugene Smith
Birth: 18 Oct 1950
Death: 21 July 2018 The Dalles
Obituary: https://oregon.funeral.com/2018/09/30/obituary-for-daniel-eugene-smith/
Lynn Patrick Smith
Birth: 22 Oct 1950 The Dalles, Oregon
Death: 24 Jul 2001 Oregon City, Oregon
John Charles Swick
Birth: 23 Feb 1950
Death: 25 Dec 1994 Clackamas, Oregon
Janice Lee Swift Gattis
Birth: 6 Feb 1951 Dumas, Texas
Death: 19 Apr 1997
John Michael "Mike" Todd
Birth: 1 Apr 1950
Death: 3 Apr 1991
Burial St Peters Cemetery The Dalles, Oregon
Nancy Usinger Kelly
Birth: 14 Jul 1950 The Dalles, Oregon
Death 14 Mar 2019 Hillsboro, Oregon
"On the evening of March 14, 2019, the world lost a glimmer of light. Nancy Beth Kelly (68), loving wife, mother and grammy passed quietly into the night surrounded by her loving family. Nancy was born in The Dalles, Ore., to Alexander and Irene (Schlitt) Usinger. She was an adventurous child and loved to explore the outdoors with her brother. They spent many summers at their boathouse on the Columbia River. When she was 15, Nancy attended a rec center dance and it was there she met the future love of her life, Brian Kelly. (Future because he asked her to dance and then didn't speak to her again for several months. He just stared at her in the school hallway. In his defense, he was shy and really liked her.) After high school she attended the University of Oregon with Brian and earned her degree in elementary education. She went on to teach at both Witch Hazel and Ladd Acres Elementary schools.
Nancy and Brian were married in 1973 after seven short years of dating. In 1981, her oldest daughter, Erica, was born. Nancy decided to transition her career into a stay at home mom, a career where she truly shined. Three years later, they welcomed the arrival of their youngest daughter, Rachel. Nancy cared for the girls, was a substitute teacher and did the billing for Brian's medical practice.
Nancy embodied all of the wonderful qualities people aspire to be: she was selfless, hard working, loving, beautiful, funny, patient and empathetic. To know Nancy was to love her. She had the gift of being able to talk to anyone and have them walk away feeling as if they were the most important person in her life. She touched everyone she met with her kindness, grace and true warmth. Nancy was an amazing mother and wife, but when her grandchildren came along she outdid herself. "Grammy" doted on her grandchildren, babysitting them whenever she could, taking them on adventures, doing crafts and always smothering them in treats. She was very proud of the time spent and relationships made with her grandchildren.
Nancy was always the heart of her family, but her two-year battle with cancer showed just how strong and brave she was. Everyday she was present after her diagnosis was a testament to her strength and will to be with her family just a little longer.
Her passing has left a hole in many hearts, both old and young. She was preceded in death by her mother and father. She is survived by her husband of 45 years, Brian; brother, Scott (wife Chris); her daughters, Erica and Rachel; sons-in-law, Micah and John; and her five cherished grandchildren, Cody, Tyler, Ruby, Drew and Quincy.
. In lieu of flowers, donations may be made to the Oregon Humane Society.Please sign the online guest book at www.oregonlive.com/obits"
Brian Williams
Birth:
Death:
Rick Francis Yankee
Birth: 25 Dec. 1949
Death: June 2018, The Dalles, Oregon
Bonnie Williams
Note: if you have additional information on any of our classmates please contact DiAnne Fentress-Rowe, dfrowe@comcast.net, so we can add information to this page.
If you are aware of a Classmate who should be added to this page please let us know.